The warm-lit 36 square meter Deluxe rooms have a calming ambience to them with a personal balcony overlooking the golf greens, farm and the pool have some of the best views in the hotel. Enjoy a soak after a day out in the bathtub and spoil yourself.
Standardise Occupancy
2 Person Max
Bed
Bedding options: 1 King size bed or options of 2 single beds (Twins) 
or 2 adjoining single beds (Hollywood Twins)
Standardise Size
36 square meters
View
golfing greens or swimming pool & landscaped garden.
Check-in
3.00pm
Check-out
11.00am
Room Details
Non smoking rooms
Chromecast
Complimentary wired and wireless internet access
International direct dial (IDD)
Satellite television & radio channels
Electronic keycard lock system
Voice mail system
Mini refrigerator
Tea and coffee making facilities
Complimentary mineral water
Electronic in room safe
Bathroom amenities
Bedroom slippers
Hairdryer
Iron and ironing board
Complimentary car park
24 hours room service
Exquisite flavours,
brought to you.
Enjoy our wide array of appetizing starters, delightful desserts and everything in between.
Be amused with the modern and playful interior and exquisite local and international cuisines that will transport you into a world of gastronomical wonderland. Expect the unexpected.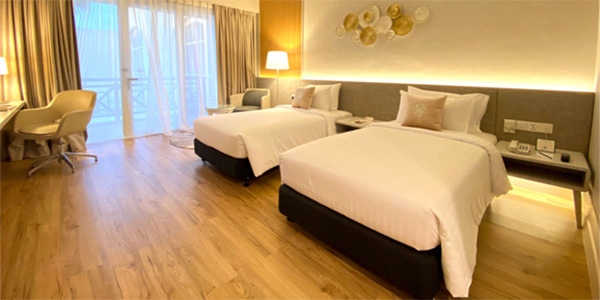 VIEW ROOM
SERENITY DELUXE


Room Size: 36 square meters
Bedding options: 1 King size bed or options of 2 single beds (Twins) or 2 adjoining single beds (Hollywood Twins)
Amenities and Facilities:
Nespresso Coffee Machine
Swing and Sunlounger at the Balcony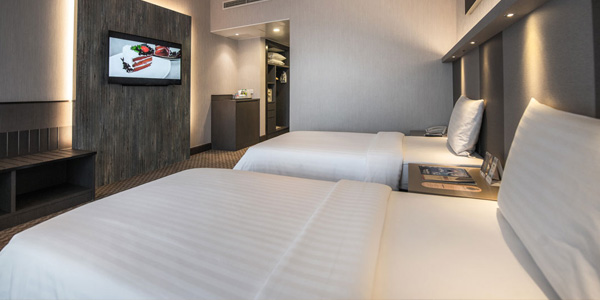 VIEW ROOM
GRAND DELUXE


Room Size: 36 square meters
Bedding options: 1 King size bed or options of 2 single beds (Twins)
Amenities and Facilities:
Tea and coffee making facilities
Iron and ironing board
Bathtub with shower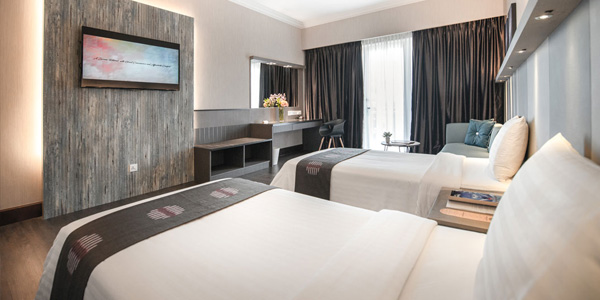 VIEW ROOM
GRAND PREMIER


Room Size: 36 square meters
Bedding options: 1 King size bed or options of 2 single beds (Twins)
Amenities and Facilities:
Tea and coffee making facilities
Iron and ironing board
Bathtub with separate rain shower cubicle
VIEW ROOM
PREMIER FAMILY


Room Size: 38 square meters
Bedding options: 2 Queen size beds
Amenities and Facilities:
Electronic in room safe
24 hours room service
Complimentary car park
VIEW ROOM
SANCTUARY SUITE


Room Size: 72 square meters
Bedding options: 1 King Size Bed
Amenities and Facilities:
Swing and Sunlounger at the Balcony
Bench Seat at living room
Bathrobe
VIEW ROOM
SUITE


Room Size: 72 square meters
Bedding options: 1 King size bed
Amenities and Facilities:
Bathrobe
Tea and coffee making facilities
Mini refrigerator
VIEW ROOM
DELUXE


Room Size: 36 square meters
Bedding options: 1 King size bed or options of 2 single beds (Twins) or 2 adjoining single beds (Hollywood Twins)
Amenities and Facilities:
Mini refrigerator
Tea and coffee making facilities
VIEW ROOM
PREMIER


Room Size: 36 square meters
Bedding options:1 King size bed or options of 2 single beds (Twins) or 2 adjoining single beds (Hollywood Twins)
Amenities and Facilities:
Mini refrigerator
Tea and coffee making facilities